Since the COVID-19 pandemic swept through the world three years ago, professional life for many people has undergone a radical shift, with remote and hybrid working much more common and companies adjusting to a less office-centered working culture. But what should you be expecting in terms of workplace trends in 2023?
Below, four key workplace trends in 2023 have been highlighted, covering the likes of scheduling, timetables, employee retention, shifts in qualities that companies look for in candidates, employee wellness, and technological innovations.
At Serviap Global, we provide international PEO and recruitment services to clients around the world, having originally started out in Mexico, where we continue to be headquartered.
SEE ALSO: Why use a PEO? 4 great reasons to consider
With over 100 direct employees worldwide, as well as hundreds more employed and administered by us for our PEO clients, we take a keen interest in professional life, and emerging tendencies in the world of work.
Contact us to find out about how we can help you with quickly and compliantly onboard professionals oversea.
4 workplace trends to look out for in 2023
1) Flexible schedules
Flexible schedules are not exactly a new phenomenon. But remote working patterns and a need among firms to offer attractive perks to find and retain professionals amid widespread exoduses of staff since the onset of the pandemic – known as the "great resignation" – means that flexible schedules are among the workplace trends in 2023 to look out for.
That can take the form of so-called flextime, whereby professionals have the freedom to elect when to complete their designated weekly hours or may involve reduced hours or shortened work weeks.
According to business strategist Bernard Marr, reduced hours offer a number of benefits to working people and is something that an professionals are likely to be want more of in 2023.
"Reducing the total number of hours worked is an exciting experiment with potentially positive implications for mental and physical health. Although it is unlikely to be mandatory, workers will increasingly seek opportunities in companies that offer flexibility as an incentive," Marr wrote in Forbes last month.
The increasing uptake of four-day weeks, meanwhile, is another workplace trend that Lynda Gratton, a professor of Management Practice at London Business School, has stated is set to see an uptick in 2023.
Speaking on the World Economic Forum podcast, Gratton said recently that while technological advances make a four-day week more viable today, the real driver will be social pressures.
Those include the fact that many couples raising children now count on two incomes, so the need for a sole bread winner to be working as hard as possible has diminished, while the lack of a stay-at-home partner makes raising children harder.

"I think it's pretty inhumane for a couple to work a full five days a week. I can see how debilitating that is and tiring that is. So I think that there will be a push for that," Gratton said.
2) Workplace trends in 2023: soft skills emphasized
In the past, companies tended to employ people based so-called hard skills, based around job-specific qualifications and particular knowledge and understanding relevant to their roles. However, some experts have noted that has been changing, with a greater emphasis on soft skills being another among the workplace trends in 2023.
Soft skills tend to be more based on the personality of the person, rather than being based on knowledge that can be acquired. Examples include the likes leadership, critical thinking, creativity, problem-solving, and time-management. While many such skills can be studied, displaying them well tends to rely on natural disposition.
According to Maria Flynn, president of US non-profit Jobs for the Future, companies are increasingly tuning into the desirability of soft skills and beginning to prioritize them over specialist knowledge or particular qualifications.
The shift is partly driven by a recognition of the difficulty of teaching many desirable soft skills, as well as an understanding that having professionals working in roles they want to do – regardless of whether their qualifications are a perfect fit – can help build a more motivated and suitable workforce, even if people hired based on soft skills will have to go through a learning process to acquire the hard skills they need.
"Some of the largest and most influential companies are embracing skills-based hiring. They know that hiring people based on what they can do, not what degrees have earned, gives them access to a much larger talent pool and makes finding workers with the skills they need easier," Flynn recently told Workingnation.
That shift has been noted online, with Workingnation reporting that between October 2021 and the end of 2022, the number of jobs posted on professional networking platform LinkedIn that no long requiring a four-year degree had leapt 25% to now represent one in five advertised roles.
Meanwhile, around 40% of hirers on the site were noted to be using skills data to help them fill roles, as the number of posts published discussing soft skills-based hiring doubled between those two years.
That workplace trend is only set to continue into 2023, especially as employers dealing with the disruption of great resignation seek to hire professionals who will be more inclined to remain in their roles.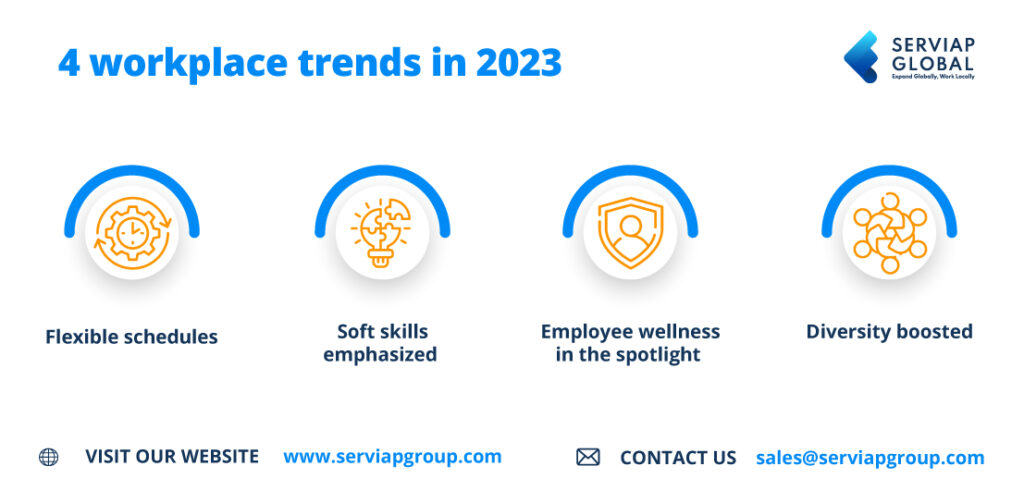 3) Employee wellness in the spotlight
Awareness around employee wellness and mental health had been on the rise before COVID-19 emerged, however the pandemic saw that awareness increase significantly, and it is set to continue further, making it another among the workplace trends in 2023.
While many people favor remote or hybrid working arrangements, working from home can also leave people feeling isolated, while the line between personal and professional lives began to blur for many people. In some cases that can lead to depression or other mental health concerns.
On top of the pandemic casting light on employee wellness and mental health, professionals had also already started becoming more demanding with regard to such issues.
That was touched on by Antony Malmo, director of change & capability at Allos Australia, a company providing consultancy and workshops related to workplace mental health throughout Australia and New Zealand.
"Employees were seeing through the 'wellbeing theatre' activities of the 2000s, such as foosball tables and bean bags. Instead, they wanted meaningful improvements in how work was designed and the quality of mental health support they received," Malmo said during a recent interview with Serviap Global discussing employee wellnes trends in 2023.
During that interview Malmo highlighted how growing awareness among companies of the need to take employee wellness and mental health seriously is not just about duty of care, but also about keeping the business viable.
"Some employers are still in the dark, some are just doing the bare minimum to be compliant, and then there are those that are leading the charge to make it a pillar of their business, because, to be frank, they know now that they can't compete without it," Malmo said.
4) Workplace trends in 2023: diversity boosted
While in many industries the massive shift to remote working driven by the COVID-19 pandemic has receded, in others remote and hybrid working patterns have taken hold, with an AT&T study published in 2022 suggesting that jobs based on hybrid working patters are set to almost double between 2021 and 2024. That makes increased diversity another among the workplace trends in 2023 to look out for.
Today many employees favor remote and hybrid work patters, with a recent report from Psychology Today suggesting that it also promotes diversity, because professionals from minority backgrounds tend to favor such working arrangements.
While the opposite claim has been made by JPMorgan CEO Jamie Dimon, who has suggested that a return to the office would boost diversity, as Psychology Today noted, a move by Facebook's parent company to adopt fully remote working for many of its employees led the company to meet its own diversity targets two years early.
Moreover, efforts made by companies to promote diversity, equality, and inclusion (DEI) are also see increasing favor among younger members of workforces.
According to a report recently published by recruitment website Indeed and workplace ratings platform Glassdoor, 72% of workers aged between 18 and 34 say they would turn down a job offer if the company making it did not actively promote DEI.
For employees aged from 35 to 44 years old, that figure fell to 63%, while for those aged from 45 to 54 it dropped to 60%. In the case of professionals aged between 55 and 65, the figure stood at just 52%.
So for employers looking for fresh young talent, adopting concrete measures to promote DEI will become increasingly important, while the growing adoption of remote and hybrid working patters will also likely attract more diverse candidates to apply for jobs with them.
On top of that, with remote working patters allowing employers to look overseas for top talent, the pool of potential employees becomes increasingly international and increasingly varied.
Serviap Global assists clients with PEO and recruitment services worldwide
At Serviap Global, we are able to assist clients with international PEO / EOR services in over 100 countries worldwide. We also offer global talent acquisition services to help clients find top professionals they will hire directly.
Whether you need a small number of executives or IT professionals, are staffing up a call center or manufacturing facility, or seeking any other kind of worker, we can support you.
Our family-run company started out in Mexico over 12 years ago, before expanding throughout Latin America and then entering other regions. Wherever you are seeking to hire, we are ready to help.
Contact us today to find out more.
If you were interested in this article about workplace trends in 2023, read more of our coverage.
Contact us