In recent years, hiring people overseas via an arrangement sometimes known as PEO employee leasing has become increasingly popular. PEO employee leasing benefits include the speed with which you can have local staff in place, the lack of need for a local entity, and the fact that many compliance issues are taken care of.
PEO employee leasing may be referred to simply as employee leasing or just PEO — which stands for professional employer organization. Another common name for a provider of these services is an employer of record (EOR).
SEE ALSO: How to get a Panama work visa for relocated employees
Under an employee leasing arrangment, a provider hires overseas staff through their own local entity, while those workers report directly to the client.
So a business can have people in place overseas in only the time it takes to find them — with many PEO firms also able to assist in the recruitment process. That means avoiding the time-consuming and sometimes costly process of forming a company.
Meanwhile, the provider will also guarantee compliance with all relevant local employment regulations as part of the services agreement signed, as well as taking care of managing the payroll of staff hired through them, among other administrative tasks.
Hiring overseas staff through such an arrangement has become increasingly popular over recent years, with the PEO employee leasing market valued at $52.44 billion by 2020, and predicted to grow to be worth $106.21 billion by 2028 (all figures in USD).
If you are interested in hiring overseas without needing a local entity, contact us today.
How does PEO employee leasing work?
PEO employee leasing involves a provider that operates in a particular overseas market hiring staff on behalf of a client, including providing support with finding those employees if needed.
To that end, an employee leasing provider will have an established recruitment network, as well as expert knowledge of the local job market.
The PEO employee leasing provider will generally carry out initial interviews to filter identified candidates, who will then be passed on to the client for final interviews ahead of selection.
Once selected, new employees will sign contracts drawn up by the provider based on the needs of the client and requirements established by local contract law.
The PEO employee leasing provider then handles the payroll of those staff after they have taken up their roles, as well as other administrative matters, such as registrations in front of local authorities.
Throughout the recruitment, hiring, and ongoing administration of those workers, the provider will guarantee full compliance with all relevant elements of local employment, labor, and corporate law.
Hiring staff through a PEO employee leasing provider will obviously come at a cost, which will usually be a per-employee monthly fee which is added to the payroll invoice the client receives.
Costs will often be significantly lower than those involved in setting up a local company, as well as involving no large initial outlay, which is generally not the case when registering a company.
Even when the costs involved in PEO employee leasing are comparable to setting up a local company, clients also enjoy the convenience of not only having overseas workers in place quickly, but also of being able to leave the market with similar agility.
Because once the project that leased employees have been hired for is over, exit from the market is over as soon as any statutory notice periods have been fulfilled, without the need for company liquidation.
Throughout the whole process, the PEO employee leasing provider will also be sharing a great deal of knowledge and expertise with the client, offering them insights into how the market works.
With that market understanding established, should the client subsequently decide to deepen their commitment by setting up a local entity, those employees can easily transfer to becoming direct hires, while the provider will often be able to continue supporting with recruitment services.
Moreover, if the provider offers PEO employee leasing internationally, they will be able to support the client with further expansions into other markets, including offering guidance when it comes to choosing new markets to move into.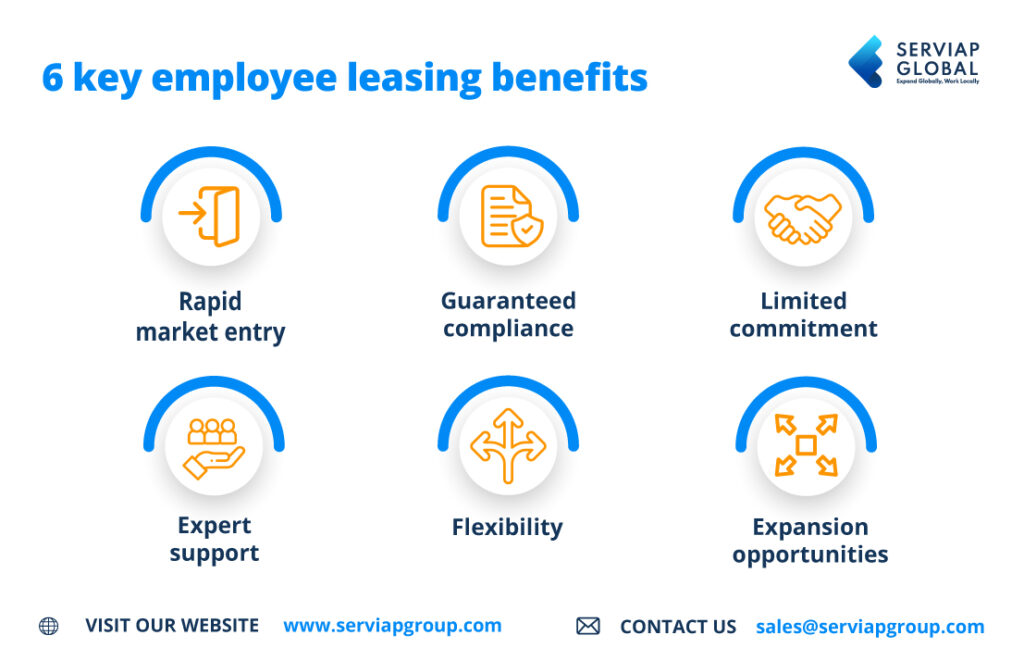 6 key employee leasing benefits
1) Rapid entry into a new market
Employee leasing means have staff in place overseas in only the time it takes to find them. As such, one of the biggest employee leasing benefits is the fact that a client can have staff in place in a matter of weeks, or even days, depending on the roles being filled.
2) Compliance and administration taken care of
Another of the biggest employee leasing benefits is the fact that compliance related to keeping employees is fully taken care of. That means entering a new market and having local staff in place without having to worry about getting to grips with an unfamiliar regulatory regime, and without having to be concerned about facing legal inconveniences or financial penalties.
3) No need to set up a local entity
Depending on the market, setting up an entity can be time consuming, complicated, and expensive. That can severely delay entry into a new market, holding back the business from achieving its goals, while also raising another raft of compliance concerns.
4) Access to an established rectuitment network
An employee leasing provider will generally offer recruitment services to help identify and hire top local talent, and will have an established network for that purpose.That will include expert understanding of the best educational institutions and programmes related to different careers, as well as the top local employers to look out for on candidate profiles.
5) Easy to deepen your commitment
Often overlooked among employee leasing benefits is the fact that it doesn't have to be an alternative to setting up an entity and hiring directly. Instead, it can be a precursor. Because leasing employees can be done with the intention of subsequently establishing an entity, or can even act as a stop gap while a legthy company formation process is completed.
6) Opportunity to expand further
Many employee leasing providers will only operate locally, some will have a regional presences, and others will have an international presence. So it is worth having your future expansion plans in mind, so that you choose a provider who is able to support you entering other new markets if that is where you intend to take your business.
Types of roles PEO employee leasing is suited for
Almost any type of person can be hired overseas through a PEO employee leasing arrangement.
Whether you are staffing a manufacturing operation, hiring sales representatives, or filling executive and other high-level roles, almost all employee leasing benefits will be felt.
Two industries in which PEO employee leasing has become particularly prevalent are call centers and IT.
With the growth of the overseas call center industry, the considerable work involved in filling and administering sometimes hundreds of jobs has seen many companies turn to PEO employee leasing providers to help meet that demand.
Meanwhile, as an increasing number of companies seek to use overseas tech talent, often for short- or medium-term projects, PEO employee leasing is an attractive option for hiring them. That can include programmers, data scientists, developers, and many other types of tech specialists.
SEE ALSO: Best alternatives to hiring US tech workers
In other cases, companies find employee leasing to be an ideal arrangment for hiring people to occupy important overseas roles overseeing local or regional operations, or leading on localized sales efforts. In other instances, a company may need a team of reps across a particular region, but only one or two in any given market.
In such a situation, a provider of PEO employee leasing with an international presence is able to hire all of them, and have those people in place quickly.
Serviap Global can assist you with employee leasing around the world
At Serviap Global, we help clients find and hire top talent in dozens of countries across six continents. We have offices in key markets around the world and trusted partners in many more, so wherever you are seeking to hire, we are ready to help.
Whether you are interested in employee leasing through our international PEO / EOR services or simply need our global talent acquisition services to help you find direct hires, we can support you.
Contact us today to find out more about how we can help you.
If you were interested in this article about PEO employee leasing benefits, check out more of our international PEO coverage.
Or read about us as a company, as well as about our leadership team.
Contact us