If you are looking to enter the Spanish market and recruit a local team, one option you should consider is hiring staff through an employer of record in Spain.
Because an employer of record in Spain – also referred to as an EOR – will hire staff on your behalf through its local entity, while overseeing their onboarding, payroll and administration, and eventual offboarding.
If you don't have staff lined up, your Spain employer of record will be able to assist you in seeking out, filtering, and hiring those staff, including drawing up their contracts based on your needs and local laws.
SEE ALSO: 4 major advantages of nearshoring worth considering
Those employees, meanwhile, will report directly to you, so that in practical terms you will have a local team in place without the need to go through company formation or worry about dealing with an unfamiliar regulatory regime.
In the case that you will be sending people into the country to oversee or participate in your operations, your employer of record in Spain will generally also be able to support you through the visas and immigration process.
Note that an EOR in Spain may also be referred to as a professional employer organization (PEO), while they may advertise their services as employee leasing.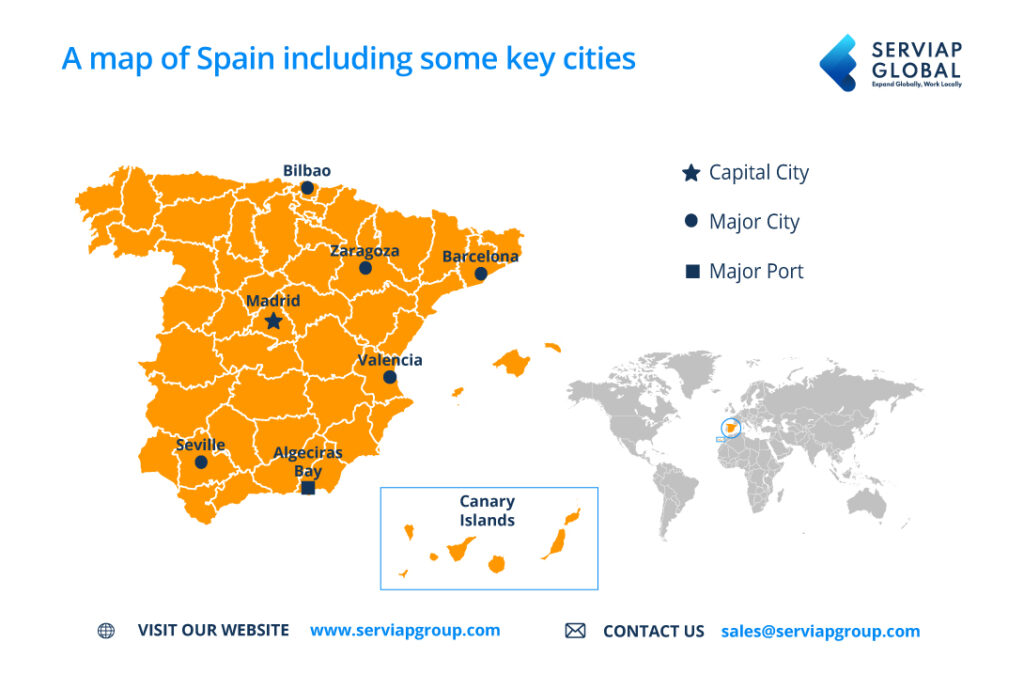 Spain has a highly developed economy that is among the top 20 biggest in the world by GDP, as well as the fourth largest among EU members.
The country has a well-developed manufacturing base, generating more than 20% of GDP, which is reflected in the fact that its most lucrative exports include cars and vehicle parts, as well as packaged medicines. The agricultural sector is also important, with pork another key export.
But it is the country's services sector that dominates the economy, generating more than 67% of GDP. Among the key elements of the services sector are banking, insurance, real estate, and tourism.
While Spain is a large and highly developed country, local workers can be hired at competitive rates, with the average gross monthly salary of a worker in Spain being more than 20% lower than the average across the EU, according to a 2022 study.
That makes Spain a particularly attractive destination for investment for anyone seeking to enter the EU, and the availablity of high-quality staff at competitive rates has seen major international companies such as Amazon, Google, Facebook, and Netflix establish large-scale operations in the country.
Meanwhile, the high quality of life that the country offers to people relocating to there is also another major draw. Among the many features that make Spain a popular choice for relocation are its great weather, good infrastructure, high-quality medical care, and low levels of insecurity.
If you are looking to hire people via an employer of record in Spain, SERVIAP GLOBAL can help you. Contact us today for more information.
What is an employer of record in Spain?
An employer of record in Spain is contracted to support with every aspect of hiring staff in the Spanish market.
That includes overseeing compliance matters, compensation claims, employee benefits, timekeeping, payroll, and many other complicated administrative issues.
On top of that, an EOR in Spain will have an established recruitment network and expert understanding of the local job market, including knowledge of the best educational programs and companies that make a profile particularly attractive, to be able to identify and put forward strong candidates for any role you require.
Fees related to contracting an employer of record in Spain will vary and can be arranged in several different ways, however most often your EOR will charge you a monthly fee per employee, which will be added to the billing they provide for the payroll of your outsourced employees.
These fees will generally work out to be more cost effective than going through company formation and establishing your own team to oversee compliance matter related to them, as well as offering the benefit of not requiring any major upfront investment, such as registration fees associated with establishing an entity.
Even if the costs end up being comparable, by hiring through a Spain employer of record, you benefit from the convenience of not having to worry about regulations being properly implemented – meaning there will be no unexpected legal complications or financial penalties coming your way.
Moreover, by hiring through an employer of record in Spain, your entry into the market is complete almost as soon as the right employees can be found, while any subsequent exit from the market will be similarly agile, taking only as long as needed for those staff to complete their statutory notice period.
Alternatively, you may find that hiring through an EOR in Spain is a good way to get to know the market better, ahead of making a deeper commitment by going through company formation and directly hiring staff.
In such circumstances, not only will you glean a great deal of understanding about the market and local regulations from your employer of record in Spain, but you will also be able to call on them to assist you with recruitment of direct hires. Because, in many cases, a Spain employer of record will also offer standalone recruitment services.
Should your entry into Spain be one step on a journey for your business that is intended to take it into other new markets, that same provider may also be able to support your ongoing expansion if you team up with a provider that is also active in other markets.
Employment regulations an employer of record in Spain will oversee
Your employer of record in Spain will guarantee that all the following employment regulations are properly applied, while also keeping you informed of any changes.
Maximum hours: In Spain, full time work is based on a 40-hour week, calculated on an annual basis. Spanish law dictates that 12 hours must pass between the end of one working day and beginning of another, while employees are entitled to a 15-minute break after six hours of continuous work.
Minimum wage: The minimum hourly wage in Spain was set at 7.82 euros for 2022. Full-time employees in Spain will generally earn a minimum of 1,000 euros per month, for a total of 14,000 euros per year, based on the country having two additional salaries annually.
Statutory bonuses: Employees received additional payments at the end and mid-point of the year, which your employer of record in Spain will oversee. Those bonuses are paid in December and June and each total one full month of pay, meaning that employees receive a double salary in each of those months.
Paid leave: Under Spanish law, workers are entitled to 22 days of paid leave per year, which can be taken all at once or split up. However, it is compulsory for all workers to take at least one period of vacation that lasts for a minimum of two weeks. Nine national public holidays are also celebrated per year, while each region has a number of others, which your employer of record in Spain will be able to advise you on, based on where you will be operating.
Sick leave: In Spain, eligibility for paid sick leave is based on having made at least 180 days of contributions to the government social security fund and having a note from a registered doctor confirming inability to work due to illness. Eligible employees can claim sick pay for a maximum of one year. During the first three days of sick leave, no payment is due, while from day four to 20, the sick employee will receive 60% of their base salary. Beyond that, the employee will receive between 75% and 100% of their salary.
Parenthood leave: Paid maternity and paternity leave in Spain totals 16 weeks, generally beginning from the birth of the child. While six consecutive weeks must be taken immediately, the remaining leave can be taken any time during the following year, but advanced notice must be provided to the employer. Parents are also eligible for unpaid leave up until the child reaches three years old. Parents with childred below the age of eight years old also have the right to request reduced working hours, for which they will be paid according to the number of hours worked.
Other leave: Your employer of record in Spain will oversee other types of leave that include 15 days off when an employee gets married, as well as two days of leave in the event of a death, accident, or serious illness within an employee's close family. Employees are also due one day off for moving home, as well as four additional days off per month in the event they are relocated at the employer's request. If an employee is laid off, they are entitled to six additional hours off per week while they serve out their notice period to allow them to seek a new job.
SERVIAP GLOBAL can be your employer of record in Spain
At SERVIAP GLOBAL, we facilitate easy expansion into the Spanish market, offering recruitment services for local direct hires, as well as acting as an employer of record in Spain.
We have offices in key markets and trusted partners in many more, allowing us to help clients with global hiring (EOR & PEO) services and global talent acquisition services in dozens of countries across six continents. So, wherever you are seeking to hire, we are ready to help.
Contact us today to find out more about how we can assist you in Spain or any other country.
Or read more about us as a company, as well as about our leadership team.
Contact us