Many workers in Mexico will enjoy twice as much paid holiday from 2023, after a modification of the Federal Labor Law passed both houses of the country's congress just days before it is due to come into force. A move among lawmakers to increase vacation days Mexico was first announced in July.
The increase in holidays in Mexico means that workers who have served one year with the same employer will be eligible for 12 days of annual paid time off (PTO) instead of the six days they are currently allowed.
Annual vacation days in Mexico increase with a worker's length of service, and employees who have worked for two years or longer will also receive an additional six days of annual PTO from 2023.
SEE ALSO: Hire via a Mexico PEO: employ staff without a local entity
"The approval of the bill is historic and an act of justice for the Mexican working class," Senator Richard Monreal was quoted as saying by El País during closing stages of discussions among lawmakers on December 14.
Having passed both houses of Mexico´s congress, the legislation must now go through the formality of being published in the Official Journal of the Federation ahead of becoming law.
The legislation modifies articles 76 and 78 of the labor law, with the increase in holidays in Mexico due to come into force from 1 January 2023.
Editor's note: The legistlation was published in Mexico's Official Journal of the Federation on Dec. 27, 2022.
Private sector push back against increase in holidays in Mexico
Since the move to increase vacation days in Mexico was announced, it has been met with pushback from leaders in the private sector.
Speaking to Forbes Mexico, Alfredo Kupfer Domínguez, director of labor, social security and immigration practice at law firm Sánchez Devanny, warned that it would affect smaller businesses most of all.
"It could be quite a significant financial blow, especially for small and medium-sized enterprises, which are the ones that provide eight out of every 10 jobs in Mexico," Kupfer Domínguez said.
Concerns over the effects of an increase in holidays in Mexico had led some business leaders to call for a staggered introduction of the law, initially raising the vacation allowance by three days in 2023, before adding another three days per year in 2026.
That was in part motivated by concerns about disruptions caused by a diminished headcount or the need to employ extra people, as well as the additional burden with regards to taxes and benefits.
For example, because workers receive a 25% premium on the wages they receive while on paid vacation, an additional six days of PTO will not only diminish available headcount, but will also add an additional 1.5 days of salary to payroll per employee per year.
However, advocates argued that the increase in vacation days in Mexico still left the country with a relatively modest allowance compared to others, and short of the 18 days of PTO per year recommended by the International Labor Organization (ILO).
What does doubling vacation days in Mexico mean for workers?
The increase in holidays in Mexico will hand all formally employed people six extra PTO days in 2023.
For workers receiving their first vacation allowance after completing a year of service, that will mean they have twice as many paid vacation days as the six they would previously have been granted
Previously, workers were awarded two more annual PTO days for each additional year of service with the same employer, up until their fifth year with the company.
Two more days of annual PTO would then be added for each five years of service from the sixth year onwards, until reaching a maximum of 26 annual PTO days for anyone who has served for 31 years or more.
Those same increments have been maintained, so that the allowance for people who have served two years now rises to 14 days of annual PTO, while the maximum increases to 32 days for anyone who has worked for at least 31 years.
There is no retrospective element to the law, so nobody will be eligible for additional PTO based on service already provided to an employer.
While the legislation will be welcomed by millions across the country, the majority of economically active people in the country will be unaffected, given than an estimated 55% of employed people in Mexico work in the informal sector.
That means that they do not have access to many of the legal benefits and stipulations that apply to formally employed people – such as minimum wage, PTO, and maximum working hours.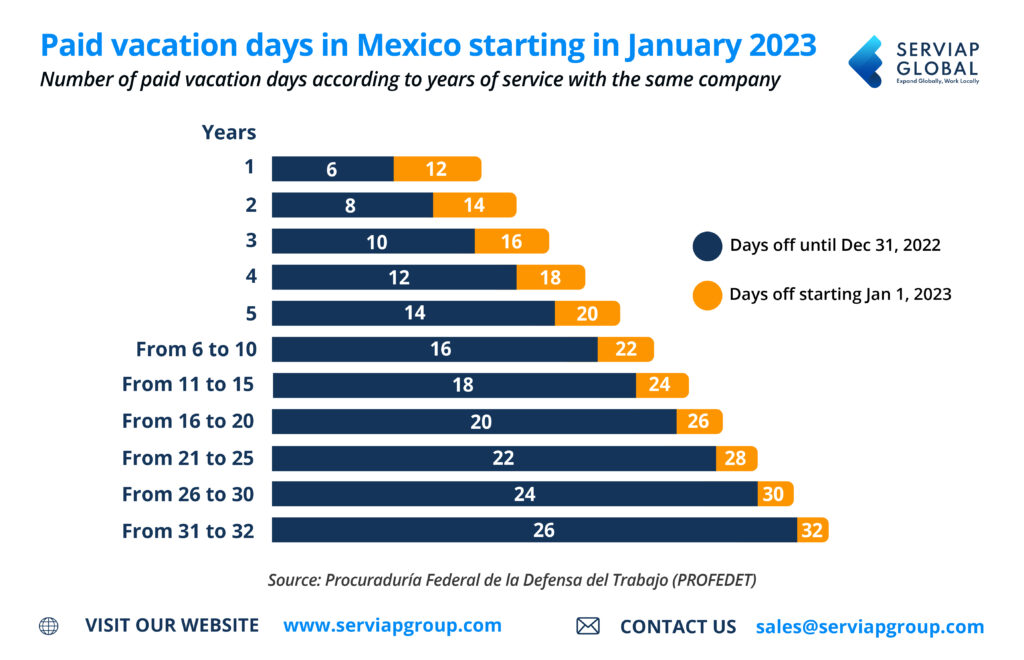 What does the increase in vacation days in Mexico mean for businesses?
For employers, the effect of the increase in vacation days in Mexico will depend on the scale at which they operate.
For businesses with a larger headcount, six extra PTO days per employee per year will mean that for roughly every 40 people, another employee will be needed to cover the additional absences.
That is based on a calendar year consisting of roughly 250 working days, once weekends and public holidays have been excluded.
In the case of a business in which many employees serve a similar role, such as a call center or manufacturing operation, that may simply be a case of onboarding extra people.
In the case of a business with a smaller headcount, or a headcount that exceeds 40 but includes people undertaking a wide variety of tasks, it could involve putting measures in place to guarantee that the additional absences are felt as little as possible.
It is worth noting that while the increase in holidays in Mexico is significant, the country will still only offer a moderate number of annual PTO days compared to others around the world.
In France and Nicaragua, employees are entitled to 30 days of PTO after completing one year of service, while many other countries provide at least 20 PTO days per year.
So, while for already established businesses the increase in vacation days in Mexico will entail some additional spending or adjustments, the new PTO allowance does not make the country considerably less attractive as a destination for doing business or hiring talent.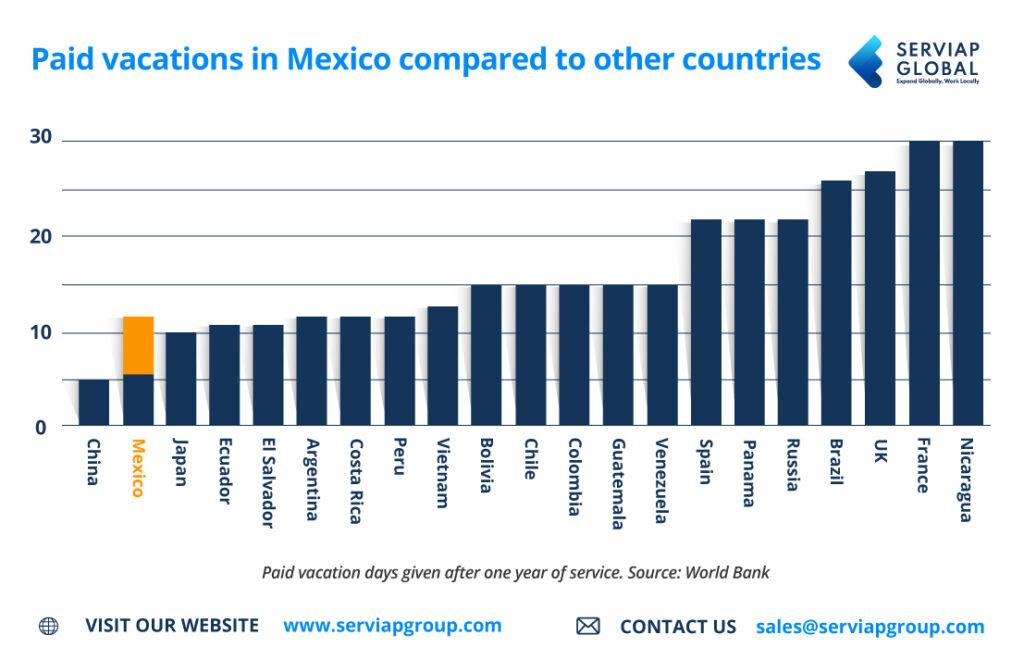 Serviap Global can help you hire staff in Mexico
At Serviap Global, we provide international PEO / EOR services in Mexico, meaning that we can hire professionals on your behalf and take care of their payroll and administration.
That means you can have team members in Mexico in only the time it takes to find them, without needing a local entity or having to worry about compliance with local regulations.
We also have an established recruitment network in the country, anf offer support with finding the talent to fill the roles you need. In the event you just want support finding professionals to hire directly, we are able to support you with our global talent acquisition services.
Whether you need a small number of executives or IT professionals, or you are staffing up a call center or manufacturing facility, we can support you.
Our family-run company started out in Mexico, and we have over 12 years of experience helping clients find and hire top talent in this massive Latin American market.
Contact us today to find out more.
If you were interested in this article on how the increase in vacation days in Mexico affects workers and businesses, read more of our coverage.
Contact