If you are planning on entering the Panamanian market and will be sending a team or individual to oversee operations in this prosperous Central American country, they will need a Panama work visa.
While there is no actual work visa in Panama, per se, foreigners can be granted an immigration visa, which will allow them to apply for a work permit. However, for the sake of simplicity, this is referred to as a Panama work visa in the article that follows.
SEE ALSO: EOR in Panama: hire local staff via an employer of record
Panama is known as the "hub of the Americas," thanks in part to its highly strategic geographic location at the meeting point between North and South America, as well as the fact it is home to the famed Panama Canal – an interoceanic channel providing access between the Atlantic and Pacific Oceans that is crucial to the global shipping industry.
For residents of capital Panama City, direct flights from Tocumen International Airport provide easy access to key destinations in Europe and North America, with Miami and Fort Lauderdale just three hours away by plane, while the likes of Atlanta, Houston, New York, and Toronto are all less than five-hour journeys.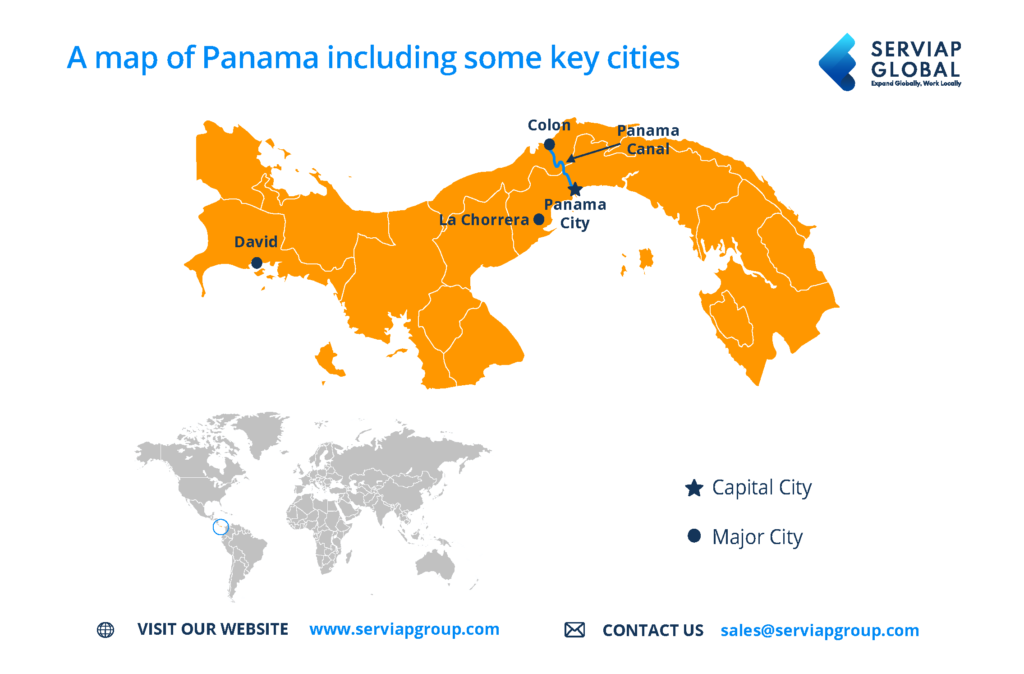 Panama is known for its economic and political stability, relatively low levels of crime, as well as its high level of development, providing a good quality of life for residents, that includes an impressive health care system.
The country also boasts a tax system favorable to business, as well as an offshore banking system that provides high levels of privacy, which is popular among high-value individuals for managing their wealth.
Panama also has a dollarized economy, meaning that the US dollar is legal tender. As such, it is shielded from the currency volatility that can affect developing economies, while costs associated with currency conversions when transferring funds into and out of the country are eliminated for anyone using US dollars.
Those factors have helped to make Panama a highly popular destination for foreign investors and residents, contributing to the country being names the tope retirement destination in the world in the 2022 edition of the Global Retirement Index, published by International Living.
SEE ALSO: Panama investor visa: minimum investment hike delayed
For investors, the country is increasingly recognized as a hub of technology and innovation, with Panama City's "Ciudad del Saber" offering facilities and incentives to companies seeking to invest there.
That includes notable tax breaks and a special Panama work visa program to make it easier for foreign investors to bring in overseas employees.
Important considerations for getting a Panama work visa
Under Panamanian law, it is the responsibility of the employer to get a Panama work visa – which in practice is a work permit – for foreign national employees.
But that can only be done once the National Immigration Service has granted the individual residence, which requires them to hold an immigration visa. Applying for this requires the applicant visiting a Panamanian embassy or consulate in their country of residence.
Once they have been issues an immigration visa, the employer can then apply for the work permit that will act as a work visa in Panama.
However, that application is not necessarily straightforward, and the employer will need to be able to demonstrate that the foreign employee is needed, and the role could not otherwise be filled by a Panamanian employee for the permit to be granted.
Another consideration will be the number of foreign employees the company already has, with a maximum of 10% of the workforce allowed to be foreign.
This process will be carried out through Panama's Ministry of Labor.
It is also worth keeping in mind that certain professions are restricted to Panamanian nationals and getting a work visa in Panama for them will be impossible. Those include engineering, law, and psychology, and a local provider supporting you in the immigration process will be able to offer further guidance on restricted industries.
Documents required to get a Panama work visa
The documents needed to be able to travel and apply for a Panama work vias will vary according to nationality, residence, and point of origin, so applicants should always consult their nearest Panamanian embassy or consulate ahead of travel.
Generally, requirements allowing an individual to travel and apply for a working visa in Panama will include:
A passport with at least six months of validity
A copy of the information page of that passport
A properly completed visa application form
An employment contract from a company based in Panama
A certificate of good health
A clear criminal record background check
Four passport-style photos
Proof of accommodation within Panama
To get a work permit, applicants will need to also provide the following additional documents:
A completed work permit application
A letter from the employer accepting responsibility for the applicant
Proof of residence from the National Immigration Service
A copy of the corresponding residence ID
Four passport-style photos
Alternatives to a Panama work visa
You may find that, depending on the type of activity you will be engaged in, a work visa in Panama as described above is not what you actually need. Some alternatives to this type of Panama work visa based your activities and legnth of intended stay include:
Temporary visitor via the Marrakech Treaty for small companies
A temporary visitor via the Marrakech Treaty, which created the World Trade Organization, is for temporary workers intending to live in Panama for a maximum of 5 years. This type of Panama work visa is only available for companies employing between three and 10 people, who must all earn the minimum wage, with one foreigner eligible for the visa, who must who must be paid a minimum of $1,000 a month.
Ciudad del Saber work visa program
As highlighted before, Panama City's Ciudad del Saber tech hub has a special Panama work visa program, which allows up to five foreigners to be employed, including businessmen, researchers, and technicians among others. Notably, this type of work visa in Panama is valid for six years.
Panama specialist workers visa
A specialist workers visa allows designated specialists the right to enter Panama to work for up to nine months. Which types of jobs are covered by this work visa in Panama is dictated by the National Service of Immigration.
Cultural, sports, or educational visa
A cultural, sports, or educational visa is a type of work visa in Panama that allows an individual to enter the country on a single occasion for the purposes of engaging in a particular event. Such a visa will be granted for a maximum period of three months, which cannot be extended.
Domestic workers visa
A domestic workers visa can be applied for by a Panamanian citizen or resident to employ a foreign domestic worker. This type of Panama work visa is valid for one year, and can be renewed up to four times, for a maximum period of five years. Such workers eligible for this type of work visa in Panama include maids, drivers, gardeners, and nannies.
Short stay visa
A short stay visa is a type of Panama work visa that allows the holder to stay in the country for up to nine months for the purposes of setting up a subsidiary for a foreign company or analyzing investment opportunities, as well as for the likes of investigations and scientific research working on behalf of a foreign government.
Special Temporary Residency for Special Reasons
Special Temporary Residency For Special Reasons is a type of Panama work visa that offers residency for up to six years for foreign workers in specific industries. These include the film or audiovisual industry, workers at the Panama Canal workers, workers in special economic areas, workers in special export zones, workers employed by call centers, and foreigners hired in executive roles to work for the Panamanian subsidiary of an international company.
SERVIAP GLOBAL can assist in the Panama work visa process
At SERVIAP GLOBAL, we provide employer of record (EOR) and recruitment services in Panama, as well as visa and immigration support.
We assist investors in dozens of countries across six continents, with a network of trusted partners in markets where we do not work directly.
Contact us today to find out more about how we can assist you.
If you were interested in this article about getting a Panama work visa for relocated employees, read more of our coverage here.
You can also find out more about us or read about our leadership team.
Contact us